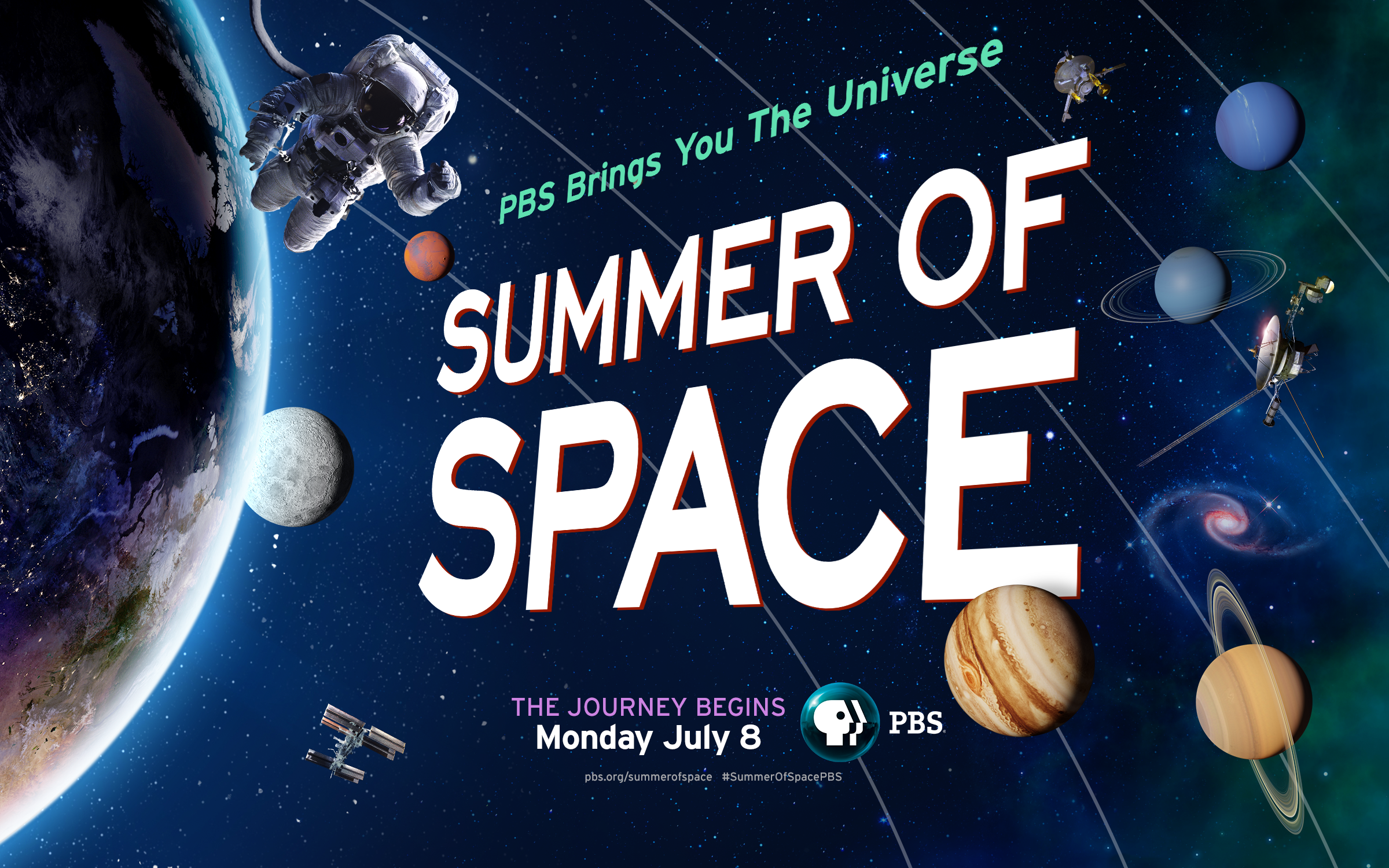 Upcoming Events & Programming
PREMIERES Monday-Wednesday, July 8-10, 2019 at 9 p.m. on WUCF

"Chasing the Moon," a film by Robert Stone, reimagines the race to the moon for a new generation, up-ending much of the conventional mythology surrounding the effort. The series recasts the Space Age as a fascinating stew of scientific innovation, political calculation, media spectacle, visionary impulses, and personal drama. Utilizing a visual feast of previously overlooked and lost archival material — much of which has never before been seen by the public — the film features a diverse cast of characters who played key roles in these historic events.
Follow us on Social Media
PREMIERES Thursday, July 11, 2019 at 9 p.m. on WUCF.
This new one-hour documentary film explores the extraordinary, transformative events Cocoa Beach residents found themselves engaged in during the 1950s and 1960s as the exploration of the future arrived on their sleepy shores.
Click here to l
earn more about Space Chase USA and Apollo 11.
Freedom 7 Elementary Honors Its History! | Your Space Place
Freedom 7 Elementary has a long history in celebrating space with Alan Shepard and honoring local heroes. See how else they are involved with space exploration on this week's #YourSpacePlace.
What an Awesome (Cape) View! | Your Space Place
How well can you see rocket launches from your home? Cape View Elementary has a great view since they're so close to Cape Canaveral, Kennedy Space Center! See how else they are involved with space exploration on this week's #YourSpacePlace.
What Gemini Means to Gemini Elementary! | Your Space Place
Gemini has a lot of history to its name and makes sure to connect their STEM programs to the heritage. See how else they are involved with space exploration on this week's #YourSpacePlace.
A Clever Endeavour? | Your Space Place
Have you ever met an astronaut? Students at Endeavour Elementary School have! Check out this week's #YourSpacePlace to find out more about how the school remembers the Endeavour space shuttle.
Being a Woman at NASA | Moon Memories
"It wasn't a fact that I was a woman doing a man's job, I never thought about it that way. I just had a job to do and I got that done."- Elizabeth Muchow, First Woman Technician, NASA.
Watching Launches | Moon Memories
Locals share their memories of the incredible experience watching launch after launch, from Gemini to the Apollo 11 moon landing.
A Tragic Reminder | Moon Memories
The Apollo 1 fire took the lives of three astronauts and shocked NASA - National Aeronautics and Space Administration. Hear retired #NASA engineer, John Tribe, recall the aftermath of the tragic accident.
Hard Times at Home | Moon Memories
"I don't want to say things like the divorce rate went up. It did… during those days."- Lee Solid. Retired NASA - National Aeronautics and Space Administration employees and contractors share how challenging it was to balance their home and work lives.
Financial support for Summer of Space has been made possible in part by...
Join
WUCF FM 89.9 Jazz & More
for several radio specials related to the Summer of Space.
July 8 & 14: Magazine - featuring Apollo-related music and interviews
July 20 at 8 a.m. - noon & 3 - 7 p.m.: Space- and moon-related music
Additional Space Programming
READY JET GO! -
One Small Step
Monday
, June 17
This new one-hour special featuring astronomy and scientific exploration will take young viewers on far-flung adventures with Jet and his friends as they journey to the moon to learn about Neil Armstrong and the Apollo 11 mission.
ANTIQUES ROADSHOW -
Out of this World
Monday, July 8, 8 p.m.
This special episode commemorating Antiques Roadshow's 50th anniversary features stellar appraisals that include NASA memorabilia, space travel treasures, science fiction finds and more.
Space Men from American Experience
Tuesday, July 9, 8 p.m.
Meet the pioneering Air Force scientists and pilots whose Project Manhigh, which collected data about the biological and technical factors required to support human activity in space, laid the groundwork for the U.S. space program.
NOVA -
Back to the Moon
Wednesday
, July 10, 8 p.m.
Join the next generation of engineers who aim to take us "Back to the Moon" as a stepping stone for future human missions to Mars, the Asteroid Belt and beyond.
Apollo's Daring Mission
Tuesday, July 16, 10 p.m.
Apollo astronauts and engineers tell the inside story of Apollo 8, the first manned mission to the moon.
A Year in Space
Wednesday, July 17, 8 p.m.
Tuesday, July 23, 10 p.m.

Follow astronaut Scott Kelly's record-breaking 12-month mission on the International Space Station, from launch to landing, as NASA charts the effects of long-duration spaceflight by comparing him to his identical twin on Earth, astronaut Mark Kelly.
8 Days: The Journey of Apollo 11
Wednesday
, July 17, 9 p.m.
Marks the 50th anniversary of the Apollo 11 mission. Includes previously classified cockpit audio recorded by the astronauts themselves throughout the 8-day mission. With cutting edge technology, this special will recreate visuals for this audio and breathe new life into archive stills.
Ancient Skies
Wednesday
, July 24, 8 p.m.
Audiences will discover how centuries of knowledge, experimentation, and engineering helped our ancestors explore outer space. Expert contributors and indigenous storytellers demystify astronomical myths with scientific explanations.
NOVA -
The Planets
Wednesday
, July 24, 9 p.m.
Viewers will get an up-close look at faraway worlds, including the dark side of Pluto, an ancient Martian waterfall and the storm twice the size of Earth seen from high above Saturn, revealing how each of them has affected our own planet.
Beyond a Year in Space
Tuesday, July 30, 10 p.m.
BEYOND A YEAR IN SPACE picks up where the first film left off: Scott Kelly's last day in space and return to Earth. The final installment also introduces viewers to the next generation of astronauts training to leave Earth's orbit and travel into deep space.
The Farthest: Voyager in Space
Wednesday, July 31, 10 p.m.
Learn how NASA's epic Voyager missions, launched in 1977, revolutionized our understanding of Jupiter, Saturn, Uranus, Neptune, and their dazzling moons and rings. In 2012, Voyager 1 left our solar system and ushered humanity into the interstellar age.
Pluto and Beyond
Wednesday, August 14, 8 p.m.
Join the mission as the New Horizons spacecraft attempts to fly by NASA's most distant target yet. Since it explored Pluto in 2015, New Horizons is zooming toward Ultima Thule, an object four billion miles from Earth.