Check out the WUCF Community Calendar below to find out what's going on across Central Florida.
Want to include your event? Send us an email here.
Please send your event at least ONE WEEK in advance.
NOTE: Due to the number of submissions, there is no guarantee that your event will make it onto the calendar.
To find a community event, click on a date on the calendar below.
Join WUCF and Sesame Workshop on Sunday, November 17 to celebrate the 50th anniversary of Sesame Street with a fun run at UCF.

Designed to bring out the fun in us all, the Sesame Street Fun Run with WUCF will feature both a 5K and shorter kids' run. Runners, walkers, joggers, and skippers are encouraged to dress up as their favorite Sesame Street character as they make their way around the UCF campus. All participants will receive a fun Sesame Street-themed cape and finisher medal.

The run will finish with a post-event festival at UCF's Memory Mall, featuring meet-and-greets with costumed Sesame Street characters, photo opportunities, and activities for the whole family.
This event is sponsored by Orlando Health.

Click here to register for the 5K or kids run.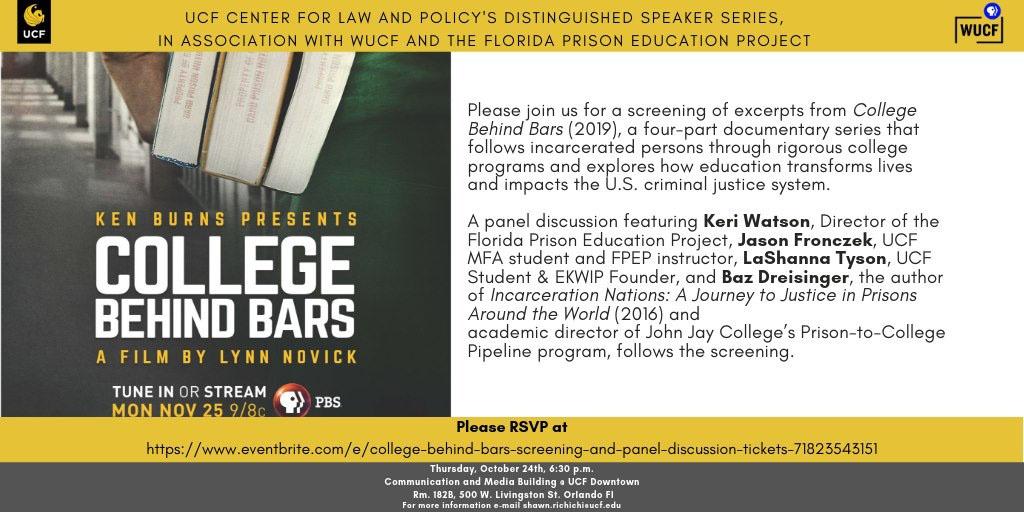 Please join WUCF and UCF Center for Law & Policy for a screening of excerpts from College Behind Bars (2019), a four-part documentary series that follows incarcerated persons through rigorous college programs and explores how education transforms lives and impacts the U.S. criminal justice system.

A panel discussion featuring Keri Watson, Director of the Florida Prison Education Project, Jason Fronczek, UCF MFA student and FPEP instructor, LaShanna Tyson, UCF Student & EKWIP Founder, and Baz Dreisinger, the author of Incarceration Nations: A Journey to Justice in Prisons Around the World (2016) and academic director of John Jay College's Prison-to-College Pipeline program, follows the screening.

For more details click here.
Pavlo
Saturday, February 22, 2020 at 7 p.m.
Mt. Dora Community Theatre, Mt. Dora
$200 - Two (2) tickets for performance plus pre-show meet and greet.

Call 1-855-423-9823 to reserve your tickets today!
________________________________________________________________________________________________

Joe Bonamassa
Sunday, February 16, 2020 at 7:30 p.m.
The King Center, Melbourne
$400 - Two (2) tickets for performance plus pre-show rehearsal.

Call 1-855-423-9823 to reserve your tickets today!