Kindergarten Readiness Toolkit for Parents & Caregivers
So the child in your life is on the way to kindergarten? Congratulations!
We know this can be an exciting, yet anxious time for caregivers and children. We created this toolkit to help you and your family navigate the development skills needed for kindergarten readiness.
On this page you will find:
Four one-hour pre-recorded workshops on Social Emotional development, Reading & Writing, STEM, and Math that provide tips and guidance for caregivers [English and

Españ

ol].
Supply lists and links to activity ideas, printables, and more [English and

Españ

ol].

Learning Goals for each PBS KIDS show

[English and

Españ

ol].
Weekly activity calendars.
On My Way to K with PBS KIDS Guidebook
WUCF's On My Way to K with PBS KIDS Guidebook follows a whole-child approach to prepare children for kindergarten through resources that support the key developmental areas - physical, social, emotional, and cognitive - a child needs to be successful and become life-long learners. While many of us focus on the basics of letter and number recognition or reading skills, kindergarten readiness encompasses many interconnected skills. Children grow at different rates, so areas of development often overlap. Development in one area is reinforced and enhanced by growth in others.

Generous support provided in part by Writer's Block Bookstore.
Session 1: Playful Me in My World / Juguetón en mi Mundo
Let's explore ways to support your child's developing awareness of themselves and others, including confidence, managing emotions, friendships, and resolving conflicts.
Exploremos las formas de apoyar el desarrollo de la conciencia de su hijo sobre sí mismo y sobre los demás, como la confianza, el manejo de las emociones, las amistades y la solución de conflictos.
View the bilingual presentation slides here.
Social Emotional Development pgs. 9-10;
Language, Communication, and Emergent Literacy pgs. 13-14;
Social Studies pgs. 25-26;
Creative Expression through the Arts pgs. 29-30;
I Can Cards pgs. 36-37
Everyday Smart Inspiration pg. 38
Apps
Activity
My Feelings Chart–Create a feelings chart with your child to help them identify their own feelings and those they have observed in others. Encourage your child to draw about their feelings then put them into words by asking some of the following questions. Español
Look at all these feeling faces; what do you think each one means?
Do you remember a time when you or a friend has had one of these feelings?
What happened before you or your friend felt that way?
What did you/they choose to do next?
Do you think there was a better choice?
Who is a person you can talk to when you or a friend is feeling ____?
Session 2: Ready to Read and Write / Listo para Leer y Escribir
Let's explore fun ways to connect word play and letters with beginning writing skills you can use every day to empower your child's confidence and self-expression.
Exploremos formas divertidas de conectar los juegos de palabras y las letras con las habilidades de escritura iniciales que puede usar cada día para potenciar la confianza y la autoexpresión de su hijo.
View the bilingual presentation slides here.
Session 2: Ready to Read and Write
Sesión 2: Listo para Leer y Escribir
Approaches to Learning pgs. 1-2; Physical Development pgs. 5-6; Language, Communication, and Literacy pgs. 13-14
Creative Expression through the Arts pgs. 29-30
Everyday Smart Inspiration pg. 38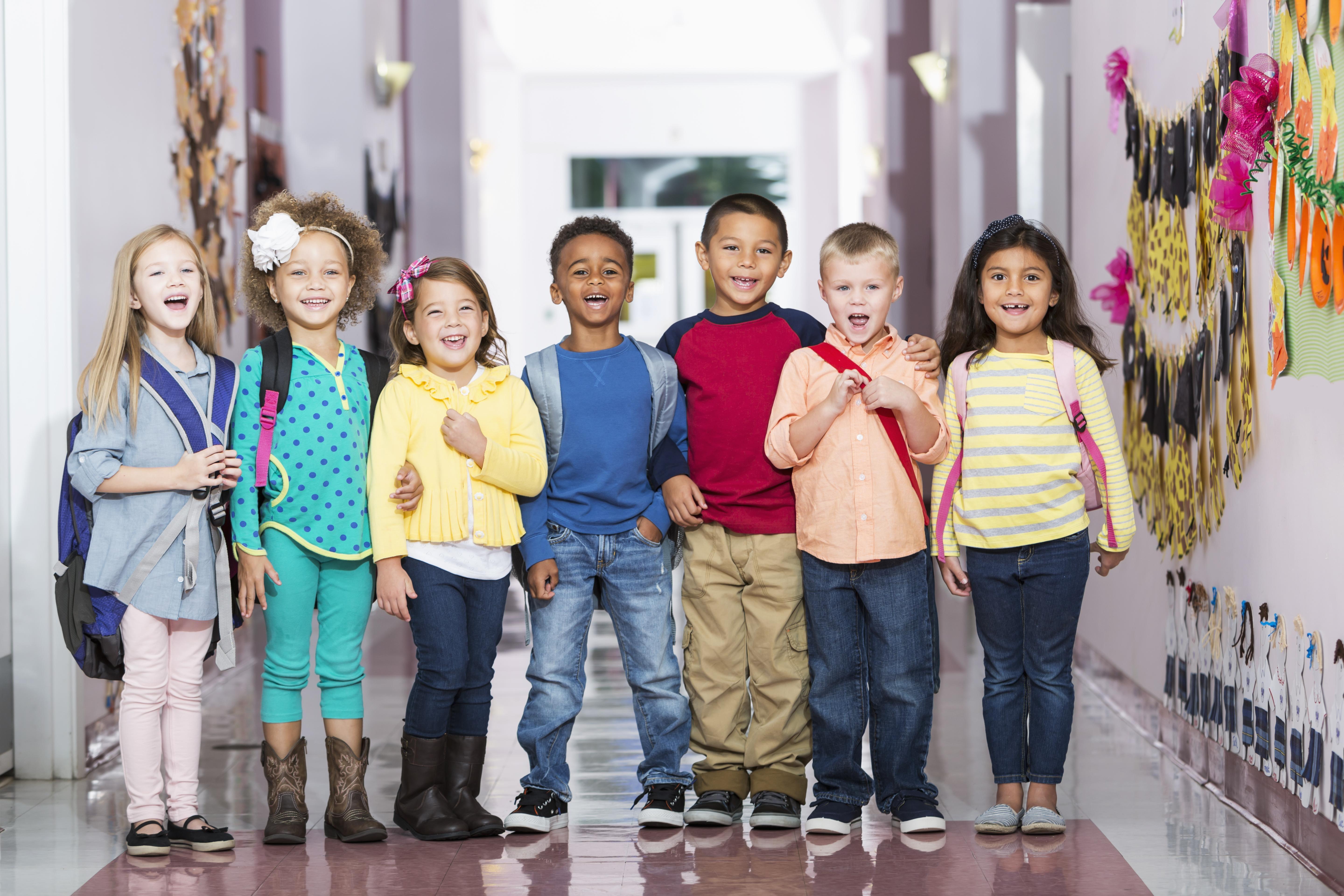 Reading Strategies for Emergent Readers
Picture walk –Look through a book and focus on the pictures only. Ask your child to talk about what they see and predict what will happen next.
Point of pictures and discuss any unfamiliar or new vocabulary words.
Point to the words as you read each page, then ask your child to look at the pictures and check any predictions they made.
After the story, go back through and talk about what happened at the beginning, the middle, and the end.
Your child may want to draw out the story or their favorite part and "write" it out.
Tips to encourage writing
Encourage your child to write for real-world reasons, like creating a shopping list, labeling things around the house, telling a story, or writing a letter.
Help your child sound out the letters they hear. After your child finishes writing, write the correct spelling underneath and underline the letters they got correct. Remember to praise them for how close they were to grown-up writing.
Discourage your child from wanting to rewrite their work as it may create anxiety about writing and may not want to write because they feel they "don't know how to spell."
Rather than talk about how even grown-ups have to look up words and when you were little it took you a while to learn, retell a story or a PBS KIDS show by drawing a picture of what happened in the beginning, middle, and end.
Suggested Supplies
General materials: Markers, crayons, pencil, glue, scissors
ABC Alphabet Cards–Use only the pictures on the alphabet cards to practice the phonological and phonemic skills above.

Start by showing each letter card out of order and say, "Letter is ___, sound is ___,"then have your child repeat.

(Letter is m, sound is "mmm") Shuffle the letter cards and have your child put them in A-B-C order.

Play "I Spy" using a word that begins or ends with…. Show a letter card and have your child find something indoors or outdoors that begins or ends with that sound. Pick a letter card and see how many of those letters you can find in a book.
Pencil Grip–Use the pencil grip to help your child learn how to hold the pencil properly and build the foundation for comfortable writing. A poor pencil grip leads to tired hands and may discourage your child from enjoying the writing process.
Journal–Create or buy a simple journal to help your child begin their writing abilities. Learning to write is a process and as a child becomes more aware of letters and words, it will reflect in their writing. Scribbles count!
Phonics Phone–This tool allows your child to speak softly and focus on listening and hearing sounds to build phonological and phonemic awareness skills, the most important pre-reading skills for young children. To use the phonics phone, have your child hold one end of the phone up to their ear and whisper read into the other end. The phone amplifies the sound, which helps kids hear the sounds and words they're saying more clearly.
Session 3: Science Says / La Ciencia Dice
Description:
Let's nurture your child's curiosity with hands-on scientific explorations - you don't have to be a science expert to support your child's science questions.
Alimentemos la curiosidad de su hijo con exploraciones científicas prácticas: no es necesario que usted sea un experto en ciencias para ayudar a su hijo con sus preguntas.
View the bilingual presentation slides here.
Sesión 3: La Ciencia Dice
Approaches to Learning pgs. 1-2
Language, Communication, and Emergent Literacy pgs. 13-14
Science Inquiry pgs. 21-22
Cloud Viewer pgs. 34-35
Everyday Smart Inspiration pg. 38
Activities
Binoculars - Encourage curiosity about living and nonliving things by using binoculars. Observe the birds, plants, clouds, and any other item of interest.

Encourage your child to describe what they see and even keep a photo journal of their observations. Classify the photos or pictures into groups such as plants, animals, etc.

Magnifying Glass - Simple tools like this help your child observe and examine the small things such as a leaf, the texture of their clothes, fingers, insects, and regular everyday objects. Encourage your child to notice the patterns all around. Keep a photo or picture journal to record their discoveries.
Suggested Supplies
Tongs – Help your child develop those fine motor muscles and investigate ways to pick up counters, toys, dominoes, etc.
Magnetic Wand–The mystery of magnetism is a powerful discovery for young children. Choose simple objects and encourage them to predict whether they are magnetic, test them with your wand, and sort them.
Dropper – Learn about colors by mixing water and food coloring and use the dropper to discover new colors.
Seeds (any kind) – Help your child keep a diary of the plant growth by either taking a photo or drawing a picture every week for the first month. Remember to talk about the parts of a plant (roots, stem, leaves, and flower). Enjoy this interactive lesson and related video with your kids.

Session 4: I Spy Math / Espío las Matemáticas
Description:
Let's explore everyday opportunities to support your child as problem solvers with hands-on explorations and math talk.
Exploremos las oportunidades cotidianas para apoyar a su hijo como solucionador de problemas con exploraciones prácticas y charlas sobre matemáticas.
View the bilingual presentation slides here.
Sesión 4: Espío las Matemáticas
Approaches to Learning pgs. 1-4
Mathematical Thinking pgs. 17-20
Recipes and Things to Make pg. 33
Everyday Smart Inspiration pg. 38
Activities
Geoboard with Rubber bands–The world is full of shapes, from your door to the flowers in nature.

Explore the shapes you find in your house and create the shapes on the geoboard using rubber bands.
Talk about how many sides each shape has and how many corners.
Alphabet & Numbers –Use the rubber bands to make letters or numbers on your geoboard.

Die/Dice–A die is a fun way to recognize dot patterns and counting.

Write the numbers from 1-10 on a strip of paper or use the Playing with 10 Frames printable and take turns rolling the die. Whoever reaches 10 first wins.
Have your child roll the die, count, and create sets using everyday objects such as cereal pieces, small rocks, or even toys.
Take turns playing, the one with the most objects after 3 rolls wins!
Ask your child to roll the die five times and write the number down. Which number did they write the most?
Suggested Supplies
Dominoes–Recognizing patterns in numbers is an important skill in learning about numbers.

Play a train game and connect the dominoes by matching numbers.
Count each side of a domino, and then tell which side has more and which has less.
Sort the dominoes into piles by the sum of the number of dots.
Find dominoes that add up to your favorite number between 1-12.

Magnetic Chips–The magnetic chips make great counters.

Copy the patterns of numbers on the dominoes with magnetic chips, then use the magnetic wand to quickly clean them up.
Create patterns and figure out what comes next. How about blue, green, blue, green?
Sort the counters by color.
Place all the counters in a baggie, each player uses a spoon to scoop up some counters. What had more, less, equal amounts?
Ask your child to write the numbers 1-5 and then add counters to represent that number.
Weekly Activity Calendars
WUCF has created weekly calendars of fun learning activities that take no more than 15-20 minutes and will help prepare your children for Kindergarten! Each week includes short videos, interactive games, and some hands-on exploration.
How to Use:
Review activities for the week and gather your materials (listed in the handout below).

Set aside 15-20 minutes of learning time each day.

Do the daily activity with your child (use accompanying discussion questions and vocabulary)

Have FUN!
Our weekly activity calendars complement our On My Way to K Toolkit, and can also be used on their own. Each calendar aligns to early childhood standards. Share photos of your child's creations on Facebook and tag @wucfeducates!